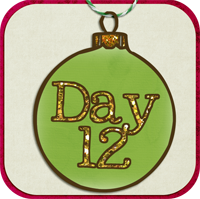 Merry Christmas! I'm sorry I'm late in posting this, we went out to dinner last night with a group of friends and dinner turned into a late night at the piano bar. We had lots of fun and it was a great way to take a break from the pre-Christmas rush! Now I'm just trying to finish everything up before the festivities begin tonight!
Our last Christmas freebie is my best-selling template - the very versatile
Boxed In Vol. 1: Squared Up
!
*link expired*
Thank you for celebrating the 12 days of Christmas with me, I have truly enjoyed giving you all of these gifts! I hope you and your family have a wonderful holiday!